THE COLLIGNON CHAIR GALLERY
Here are the chairs found from every corner of the world. How they got to their final location would be the real story. Click on the pictures for a larger view.
Canada New Jersey E C Texas Germany W P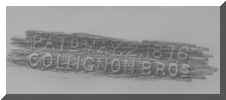 Germany Patent Date W P Germany W P
Small Collignon Chair Large and Small

Collignon patent 1868
Novelty, Open, With Cane Seat And Back (This Back and Seat not original, cane)
(On Poster #15)
This chair originally belonged to my great grandfather George Davis and was his desk chair The patent date is September 19, 1868. He was a County Supervisor in the 1880's in Bozeman Montana. My grandfather was born in 1880. Around 1903 my grandfather's family moved to San Diego, CA. via covered wagon and the chair came along. My great grandfather passed away in 1930 and the chair passed to my grandfather Evan V. Davis. My grandfather inherited the chair while living in San Bernardino California in 1930 and it became his desk chair. He was a Portrait Photographer by trade. In 1948 he retired and he and my grandmother, Irma Keply Davis moved to Pasadena, CA. My grandfather passed away in 1974 at the age of 94. The chair remained at the desk with the only telephone in the house and was used every day until the death of my grandmother in 1982. As the only heir, the chair came to me in the city of Fontana, CA where I serve as a Council Member.
John B. Roberts

Collignon patent 1871
Steamer Chair , Open With Cane Seat, Cane Back and Cane Extension.
(On Poster # 41)
This chair is now in Okmulgee, OK. My Dad has related to me that the chair was bought by an Uncle or Great-Uncle (he doesn't know which) of my mother, Elsie Kate Marie Rebenklau Nicholayeff who passed away in October of 1999 at the age of 87. Her Uncle probably traveled aboard the steamship Cunard from around Worms, Germany in the late 1800's. He apparently was a seasoned traveler even before he migrated to the US. My mother was born in Barryville, NY, raised on Flatbush Ave, and when she married my Dad, they moved to Lake Rogerene, NJ. That is about 11 miles from Dover and about 4 from Succasunna. My parents moved to Flemington, and then to Florida. My dad currently resides in Florida.
Mary N Lee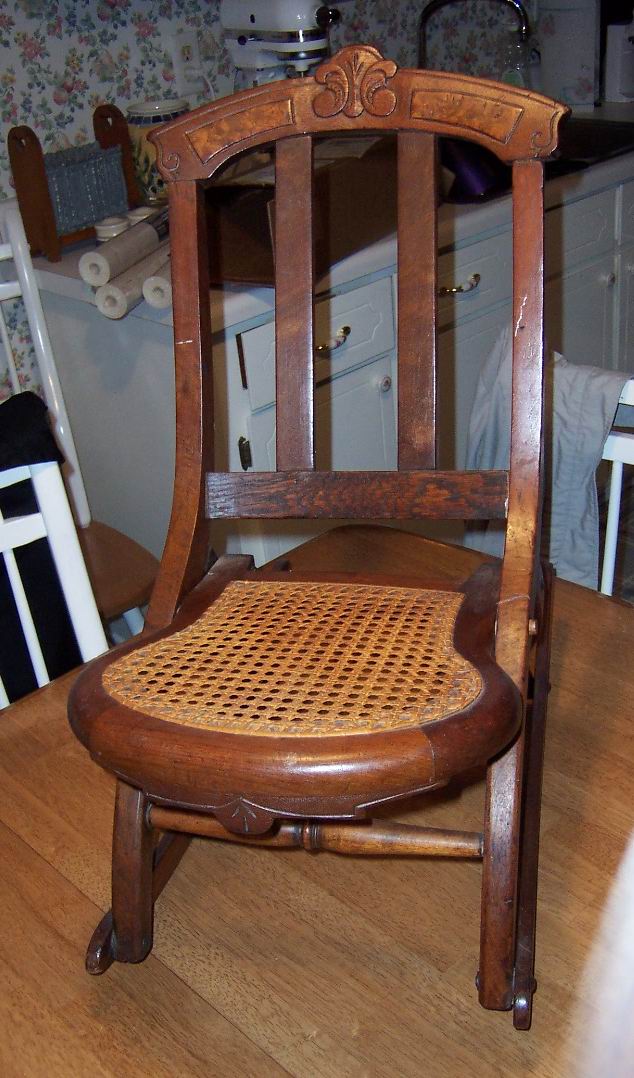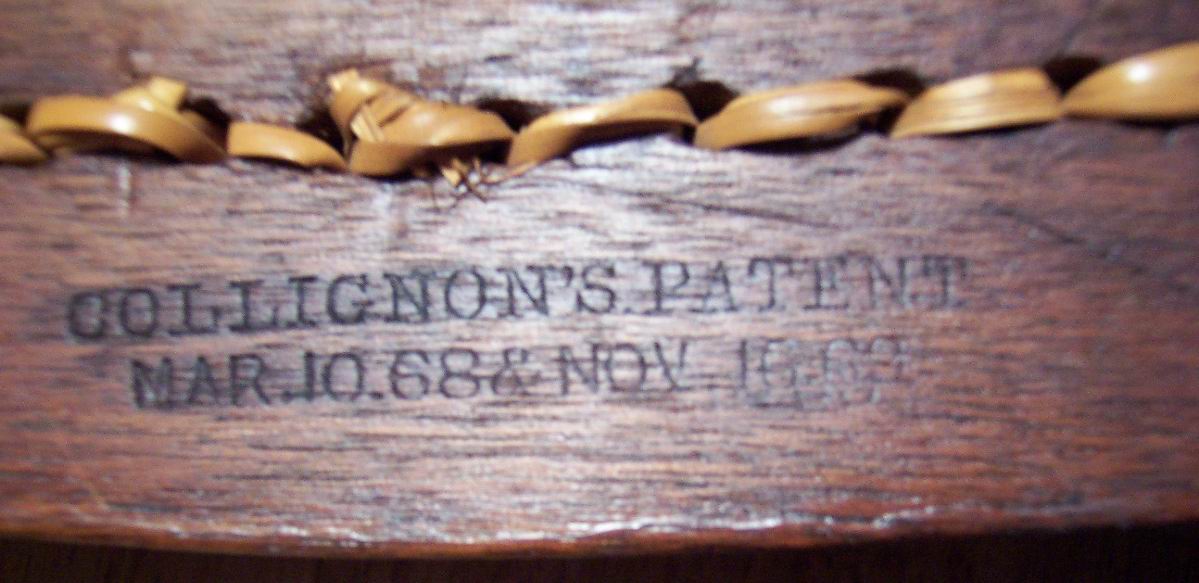 This child's rocker has been in my family for many many years. I will hand it down to one of my daughters, and they will pass it along also. It's in tremendous shape. I'll always have fond memories of it sitting on the hearth of my Grandma's fireplace. Now it is sitting in front of my fireplace. My Grandmother was a MacMinn, who lived in upstate NY (Saratoga area), My maiden name is Feulner, I was born and raised in that same area. I live in the Augusta, GA area.
Deborah Stange
Collignon Child's Rocker
March 10, 1868 - November 16, 1869

Kerrville, TX
Great info. I inherited my Collignon folding chair w/Collignon's Patent July 11, 1871 stamped on under side of seat. The seat is only 14 1/4" from floor & top of the back is 29 1/2" from floor. Allegedly it was made for my step-mothers grand-mother who was very small. The chair could be used by a child. I would consider the chair in excellent condition. The finish looks untouched & the cane seat is in excellent condition leading me to believe that it might have been replaced at some time in the early 1900's. We live in Kerrville, TX.
Chuck Decker
This is a Collignon Folding Brace Sewing Chair Open With Cane Seat And Spindle Back.
Patent July 11, 1871
(On Poster # 6)

The rocker, I believe, was bought by my great Aunt Bess ( Griffin ), who lived in the Cragmere section of Mahwah, but had lived in NYC and/or upstate and in Ridgewood NJ . At some point she gave it to my mom (because I loved it, I think) and it became a treasure in our Ramsey Victorian on Church Street . The chair was recaned many years ago by a blind craftsman in northern NJ that my folks used several times.

I was born in NYC, but we moved to NJ in 1951 when I was five. Mom lived there until 2001, ten years after my dad passed on. I took quite a few of momís treasures and the rocker was one I had forgotten I had until I was cleaning my basement in prep for a long awaited yard sale. I wanted to find out more about the rocker and finally discovered the imprint on the bottomóand that led me to your fascinating web siteóthe only place I found mention of these great pieces. Needless to say, the rocker did not make the yard sale.

SAM JAMKE

This is a Collignon Novelty Rocker, Open, With Cane Seat And Cane Back.

Patent March 10, 1868 & Nov 16, 1869

(On Poster # 24)

COLLIGNON CHAIR PICTURES RECEIVED VIA EMAIL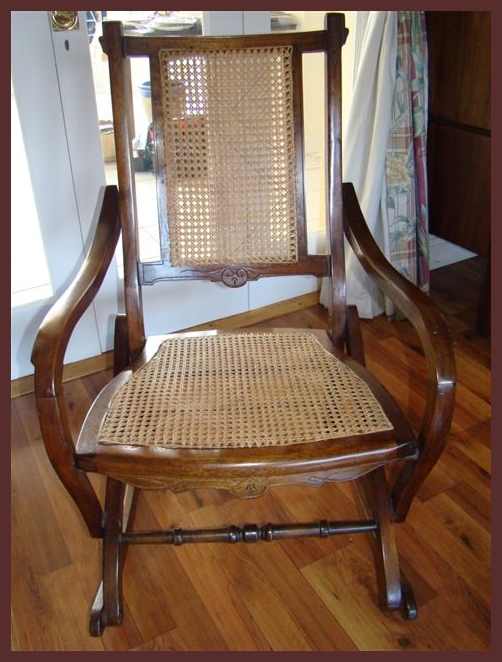 Lisnagry Co Limerick in Southern Ireland
My chair certainly has travelled a long way as I live in Lisnagry Co Limerick in Southern Ireland and I have no idea how it got to here but I bought my chair in and auction rooms in Roscrea Co Tipperary which is about 40 miles from Limerick where I live. The chair was a bit of a sorry sight - covered in a black bitumen paint and upholstered in a sort of tapestry cloth that had seen better days but there was something appealing about it. I started to strip the chair to upholster it and I discovered it was a cane chair as I stripped off the bitumen paint I realized that my chair was was made of walnut and had a stamp which read Collignon bros. patented 1876. The chair was in surprisingly good condition with literally no damage to the wood work all it needed was cane work and to be French polished which took me a few years to restore as I had to learn how to do both of these tasks. D.R.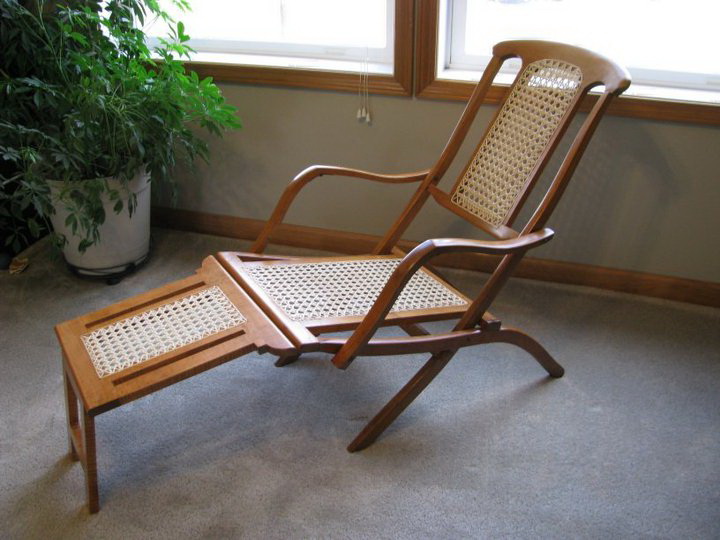 Westport, Connecticut
This chair has traveled across the US and back. It was found by Vera C in a barn in Westport, Connecticut in the 1940ís, covered in denim. In 1976 her daughter Ruth M. moved to California and took the chair with her. My dad, Ron B was given the chair as a bonus for some work that he did on Ruthís house. Recently my dad refinished the chair and mailed it to me in Pennsylvania. I had the chair canned and it now sits in my living room. Julie B.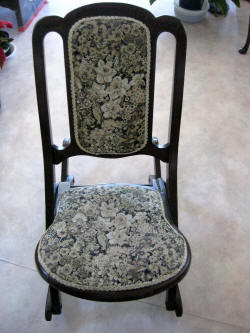 Auckland, New Zealand
Our neighbors were students and were moving home at the end of the school year. They were throwing away what they couldn't fit in the car and the chair was not fitting in. They asked my son if he wanted it as they were going to put it in the rubbish bin. It is a folding rocking chair with "Collignon's patent Mar 10, 68 and Nov 16,69" on it. How it got to be in Auckland, New Zealand I do not know.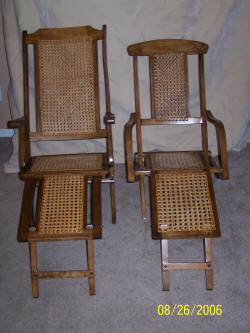 Massachusetts
Pictures of steamer chairs (a pair of his and hers) I received from my mother. They originally belonged to her Aunt who bought them in Massachusetts in the late 1950's. After her death, my grandmother acquired them and for some reason felt compelled to paint them several times!!! They were rediscovered by my mother at my grandmothers house. They were leaning against the barn in the rain and evidently had been there for several years. I had them completely refinished; a process that took nearly a year! Thanks, M and C., Jacksonville, NC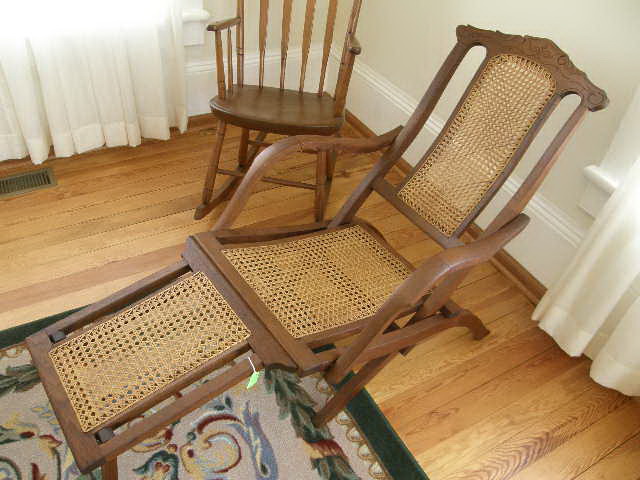 In my Dadís estate we have one of the Steamer chairs stamped on the back ďCollignonís Patent June 27, 1871. Dad was an Antique dealer and acquired the chair in the 60ís. Dad was a master when it came to refinishing and canning. I wish I had a before picture. Bob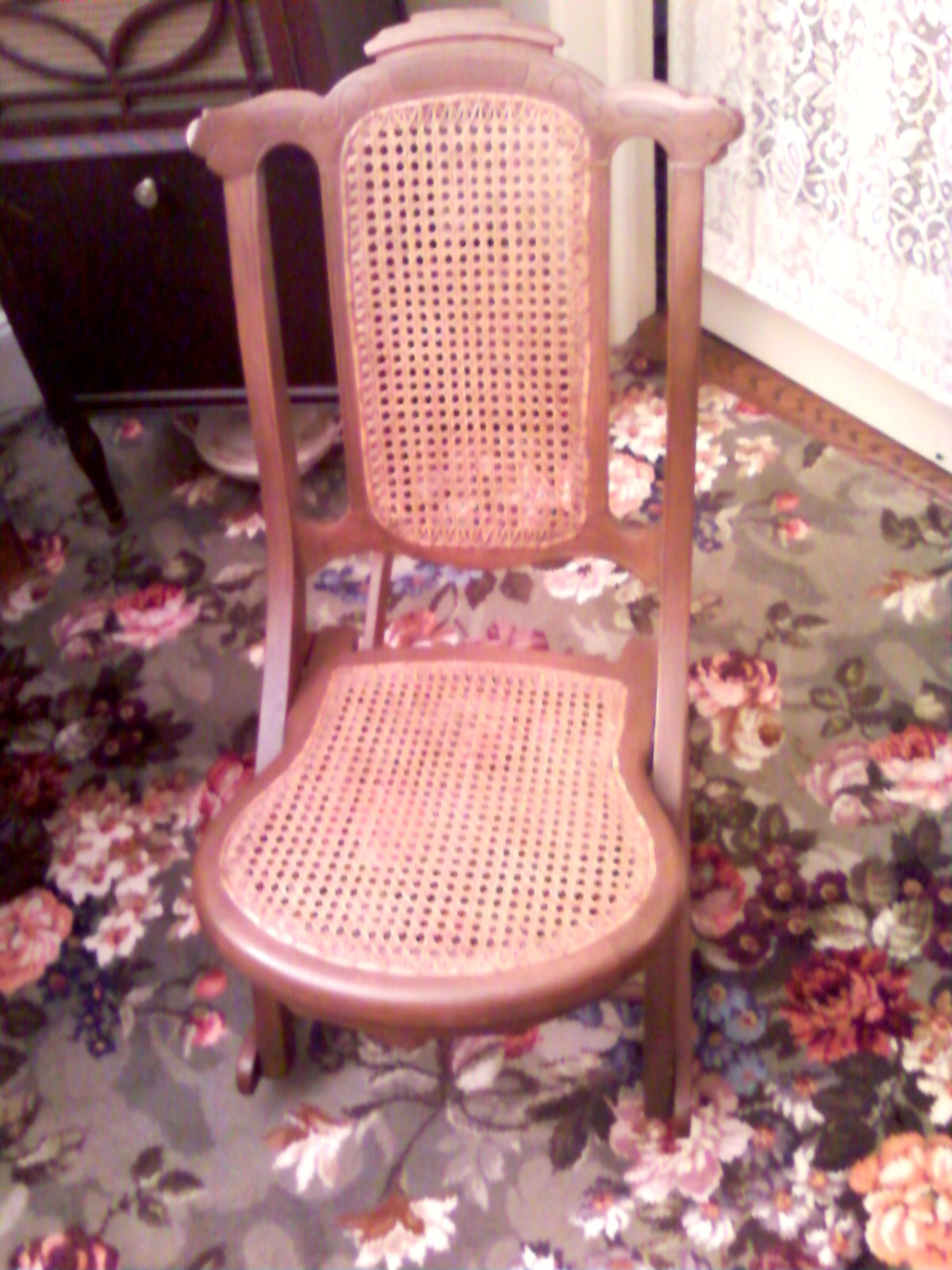 DIAMOND SPRING INN in Denville NJ
My name is Gus and we have a COLLIGNON folding Rocker it is in perfect condition. We found it in our attic about 17 years ago. We live in the old DIAMOND SPRING INN in Denville NJ .... the dates on the chair are.... Mar. 10, 1868- Nov. 16 1868 . I enjoyed reading about the History of the folding rocker ...... Thanks, Gus

Long Island, New York
I have a Collignon folding rocker that has been in my family, we believe, since it was new. It was most likely purchased by my paternal great grandmother in New York. The stamp on the bottom says: COLLIGNONíS PATENT MAR 10 í68 & NOV 16 Ď69 I think itís unusual compared to photos I have seen in that it has a star pattern on the seat. Iím wondering if this has any particular meaning. Attached are some photos. Itís in very good shape, except for one small chip on the seat towards the back. Axx Sxx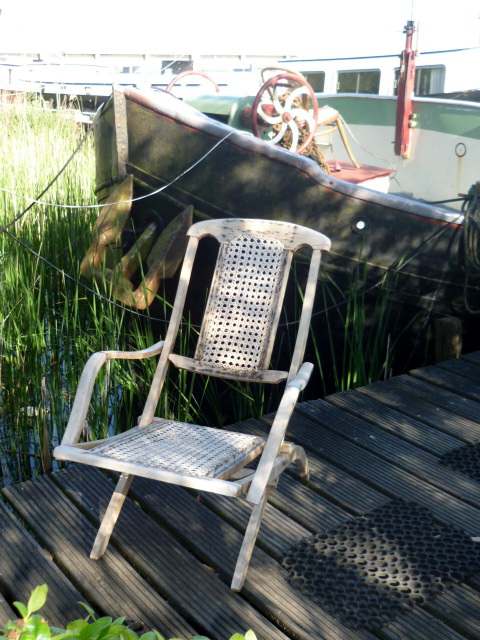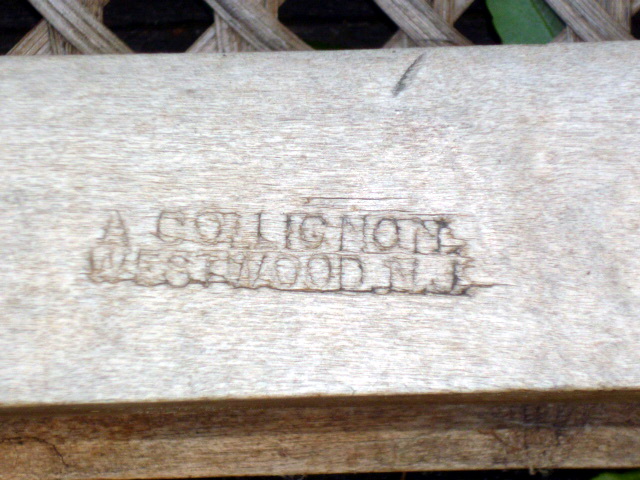 I finally found some information about a deck chair I bought on the flee market in Brussels somewhere in the eighties of last century. It was no longer with its cane seat and back but upholstered. I am a furniture restorer myself and restored it and had it caned. I lent it to a friend an he let it stand in the rain so it doesn't look nice now. I will refinish it .
for now i sent you a picture. I live on an old freight ship turned into a houseboat so now the weather is warm I sit on it
Greetings from Amsterdam The Netherlands
Jan Paul Folkers
I learned that your ancestors immigrated from Rupt en Woevre France. You know Brussels, where I purchased it, is only about 150 miles away from Rupt. As a matter of fact I own a farmhouse in that part of France. Luckily for your ancestors they moved from there because World War I was fought heavily in that region.
Greetings from Jan Paul

I Received this email today 8/3/2014 with these pictures
South Africa. I Inherited the chair from my granny. She covered the seat with material. I am very proud to be the new owner. RE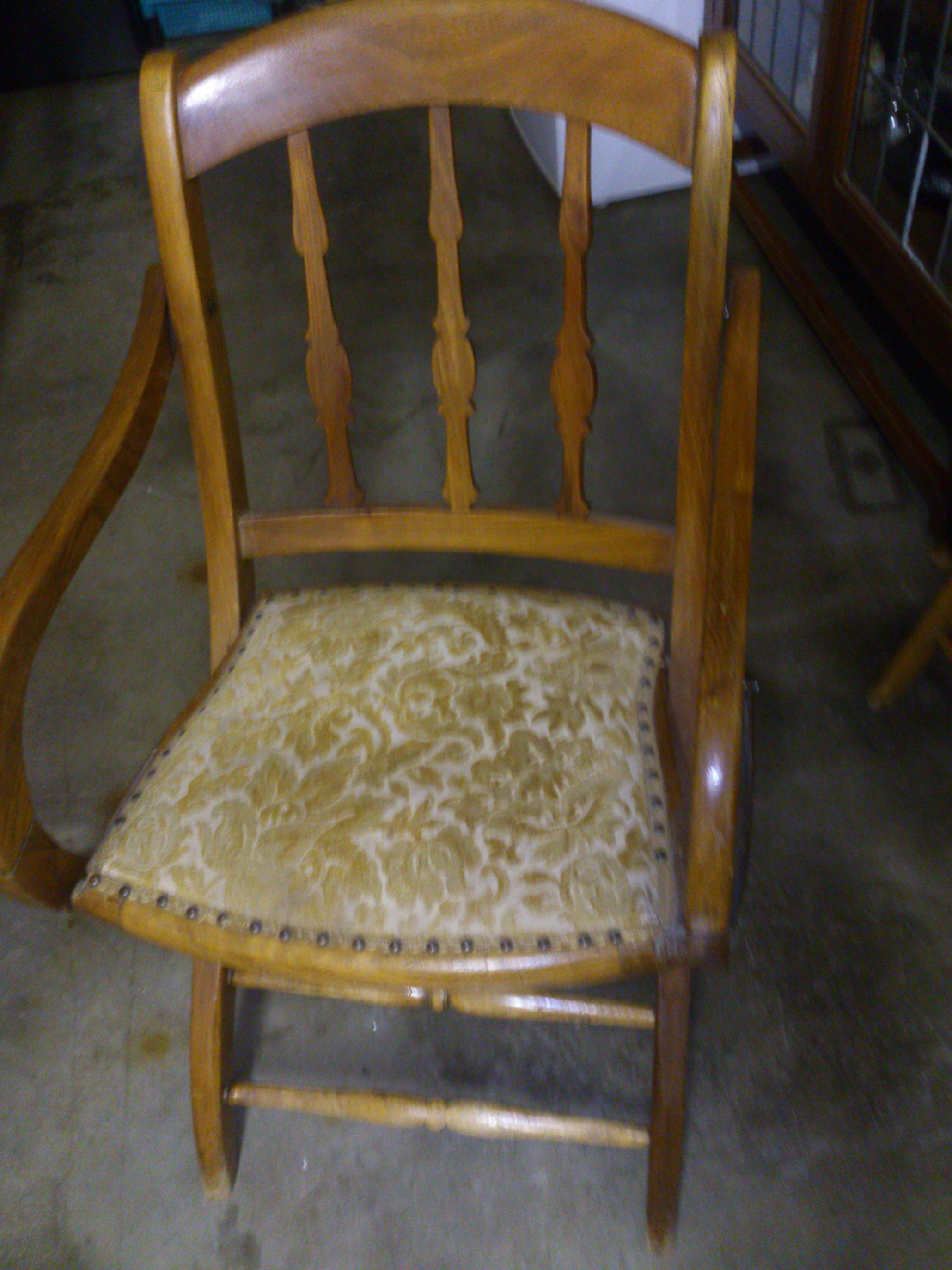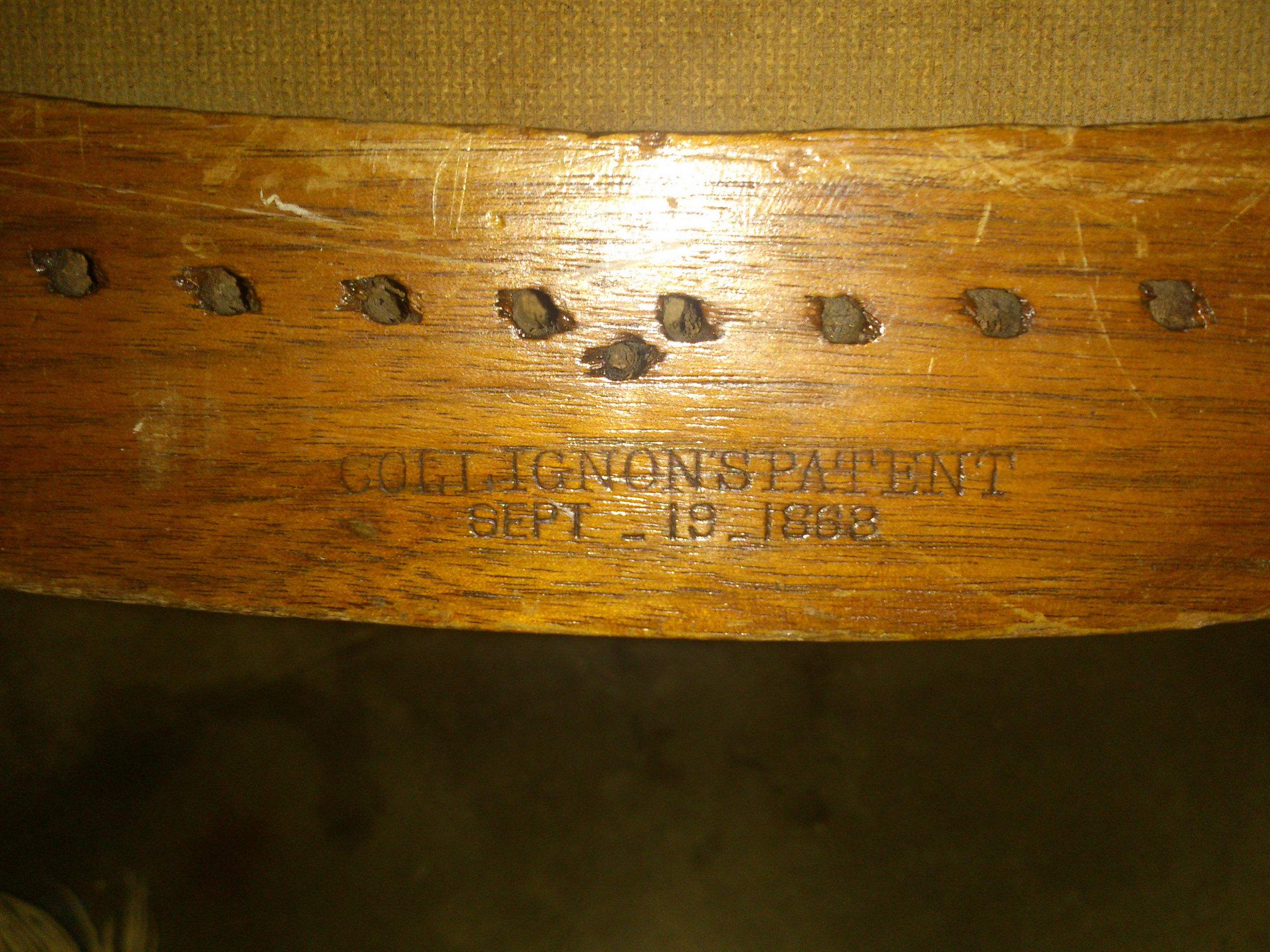 WebMaster
John Collignon
Last updated 8/3/2014